Alstonia @ Bukit Rahman Putra
Alstonia Hilltop Homes is an exclusive residential development built on 4.11-acre freehold land in the matured township of Bukit Rahman Putra in Sungai Buloh by the prestigious developer, MRCB Land. Launched in early 2018, there are limited units of homes in this exclusive residential enclave – there are only 31 units of 3 Storey Garden Villas and a 25 storey condominium comprising 214 units. 
The location of Alstonia is near to another development by MRCB, Kalista Park Homes. It is close to all the amenities you would expect from a matured neighbourhood plus it has great connectivity via roads and rail (Sungai Buloh MRT and KTM station).  If you are in search for a property that is closer to Kuala Lumpur CBD, consider Sentral Suites in KL Sentral, which is also another prestigious development by MRCB.
---
Key Attraction of Alstonia Hilltop Homes
Freehold
Very low density – Only 31 Units of 3-Storey Garden Villas and 214 Condominium Units
Gated & Guarded – giving you peace of mind
Availability of public feeder bus to MRT and KTM stations.
MRT Sungai Buloh – approx 3 km away
KTM Sungai Buloh – approx 3 km away
Public schools and private school (ELC International School, IGB International School)
Bukit Rahman Putra Golf Course is in the vicinity
---
About Alstonia Bukit Rahman Putra
Alstonia is a private, gated and guarded residential development comprising garden villas and a condominium block. For the selected few who prefer a quiet and secure home in an easily accessible location, Alstonia makes a perfect choice. Surrounded by existing semi-detached and bungalow homes, Alstonia is a low-density development in a matured neighbourhood making it a perfect upgrade for those who live in the vicinity. Beautifully landscaped with a pool, garden and lush greenery, Alstonia gives its future residents' opportunity to relax and unwind in their own private garden. 
---
Alstonia 3 Storey Garden Villas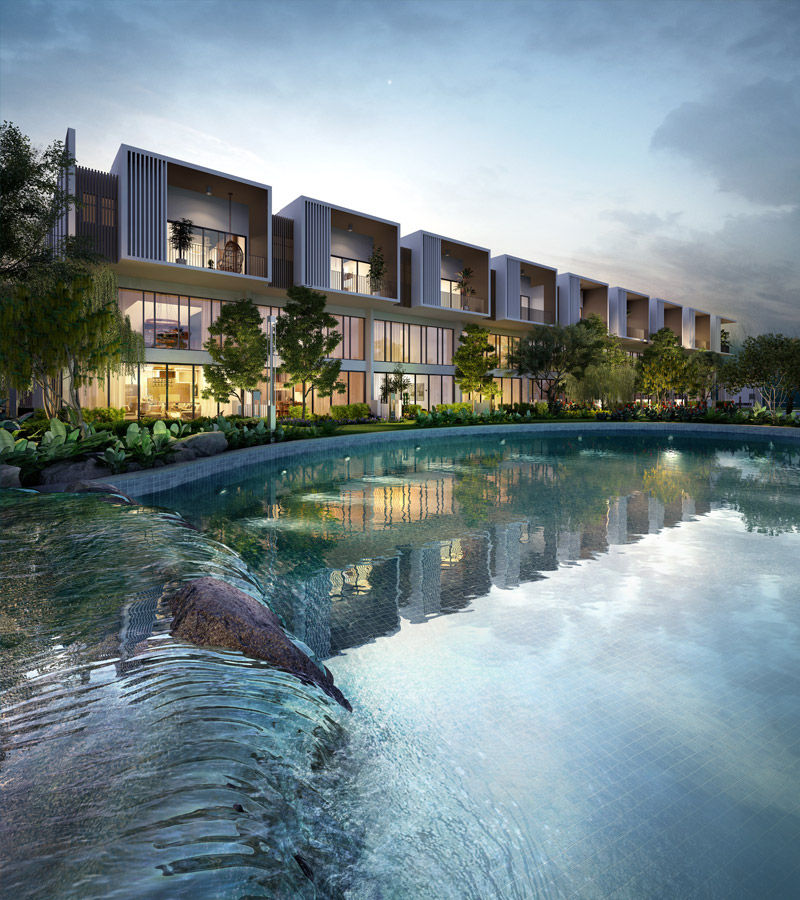 The 3 Storey Garden Villas have a modern facade with a unique layout for modern families looking for a home. A generous land area of 24′ x 75′ for the intermediate units and 31′ x 75′ for the corner units means larger spaces for everyone in the family.
You'll be surprised to see that the houses have the living area opening up to the green turfing area – your own private outdoor space to enjoy! For the units that are facing the pool and garden, you can walk out of your turfing area into the wide garden and pool area!  And all while in the secure private gated development of Alstonia – so no worries about strangers roaming in your yard!
---
3 Storey Garden Villas
Parcel Land Size : 24′ x 75′ (intermediate) and 31′ x 75′ (corner)
Built-Up : 3,500 sq ft (intermediate) 3,600 sq ft (corner)
4 Bedrooms + 1 Utility & 1 Store (under the stairs)
Dry Kitchen & Wet Kitchen with Yard
Living area that opens to a green turfing area
Double volume ceiling for the living area
Family hall on the first floor
Open Void extending 3 floors for natural lighting
Balcony for every room!
2nd Family Area on 2nd floor with open terrace!
---
3 Storey Garden Villa Floor Plan
Alstonia 3 Storey Garden Villa floor plan and layout is practical yet modern for the urban family. Very generous in space, light and airy even for the intermediate units. To download the floor plan, submit your enquiry below. The corner units are slightly larger than the below intermediate floor plan.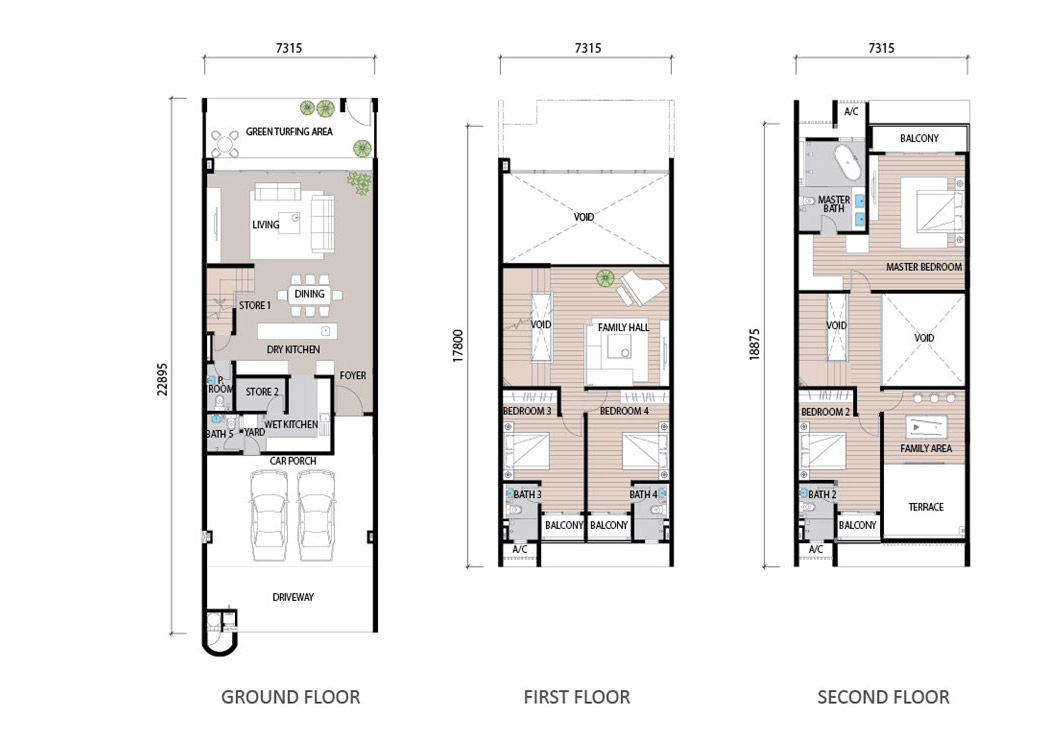 ---
Alstonia Garden Heights Condominium
The Garden Heights Condominium in the private enclave of Alstonia is a 25 storey single block of the condominium.  All the units are designed with the urban family in mind – generous space for everyone with a practical layout for the modern lifestyle. The condominium offers 21 different types of facilities including a sunken lounge that flows into the swimming pool and large open gardens to enjoy at the end of the day. There are 5 different layouts starting from 1,001 sq ft right up to 1,431 sq ft that comes with 4 +1 Rooms and 4 Bathrooms – just perfect for the growing or extended family.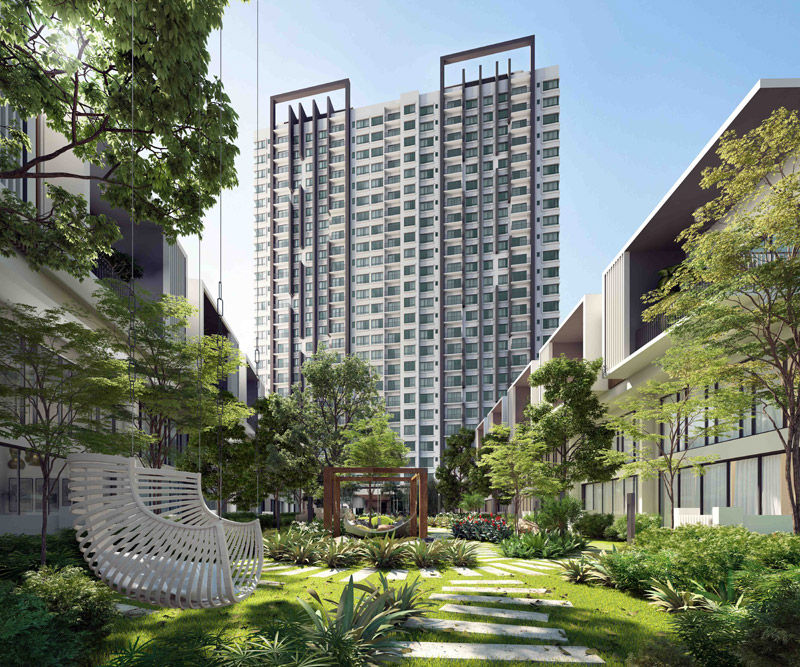 ---
Garden Heights Condo
Five different layouts to suit your different needs
Sizes start from 1,001 sq ft to 1,430 sq ft
3 Rooms, 4 Rooms or 4+1 Rooms
21 Different Facilities
Private, Gated & Guarded enclave of Alstonia
25 Meters swimming pool to immerse in!
20,000 sq ft playground for your daily walks!
Low Density – Only 214 units
---
Garden Heights Floor Plan
1,001 sq ft
1,022 sq ft
1,216 sq ft
1,227 sq ft
1,431 sq ft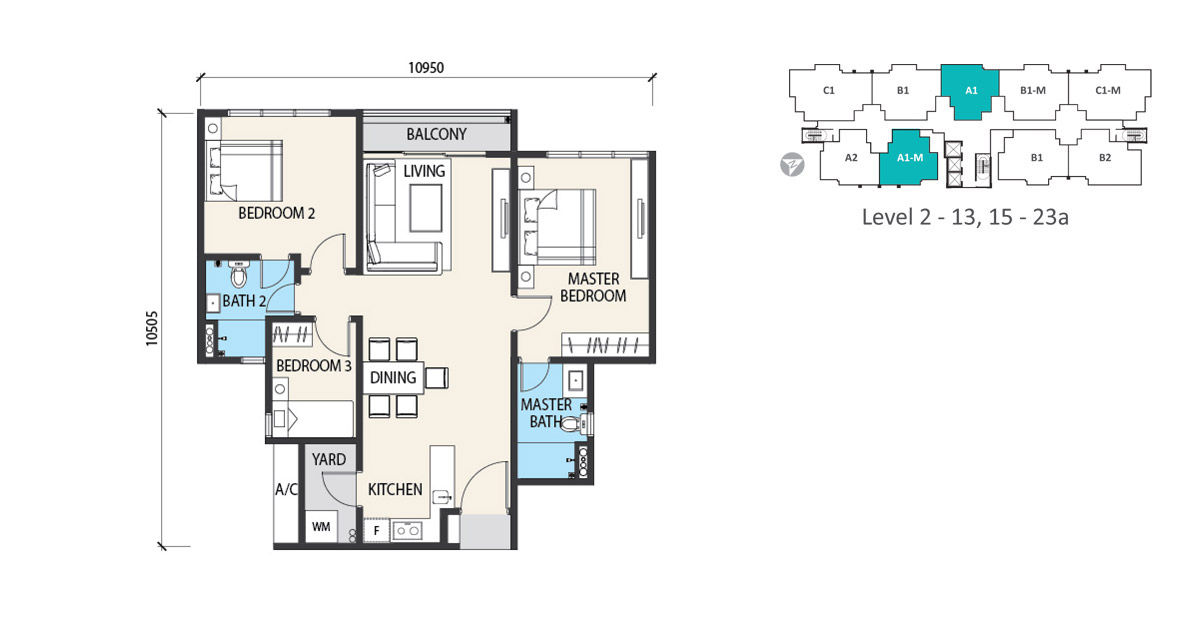 Type A1 . Built-Up: 1,001 sq ft . 3 Bedrooms . 2 Bathrooms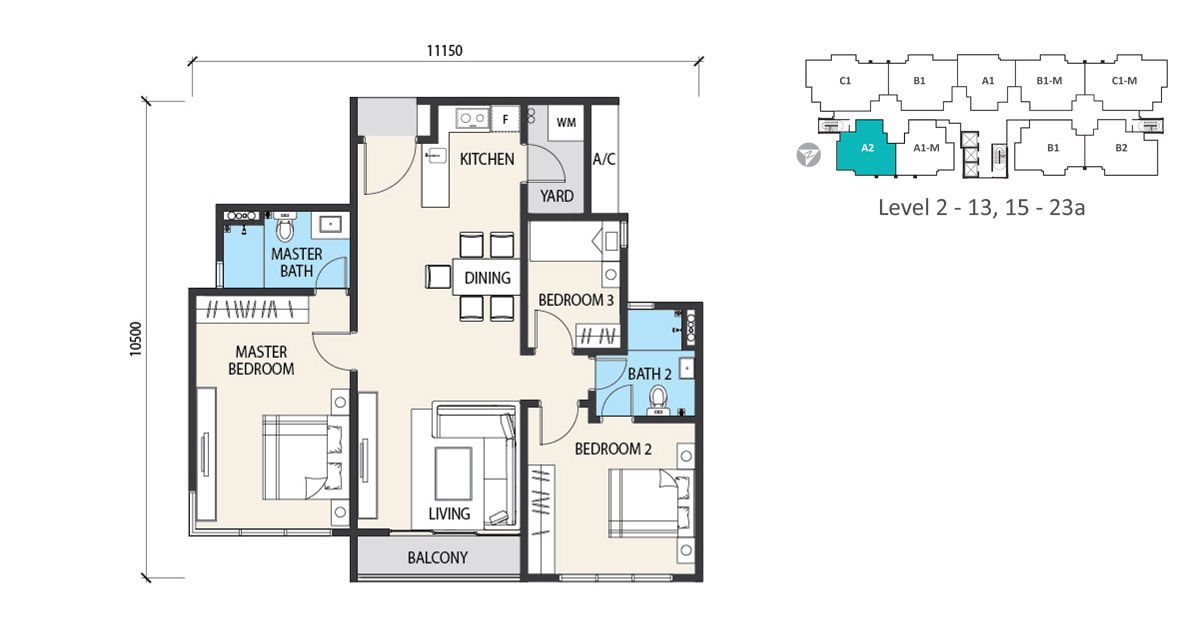 Type A2 . Built-Up: 1,022 sq ft . 3 Bedrooms . 2 Bathrooms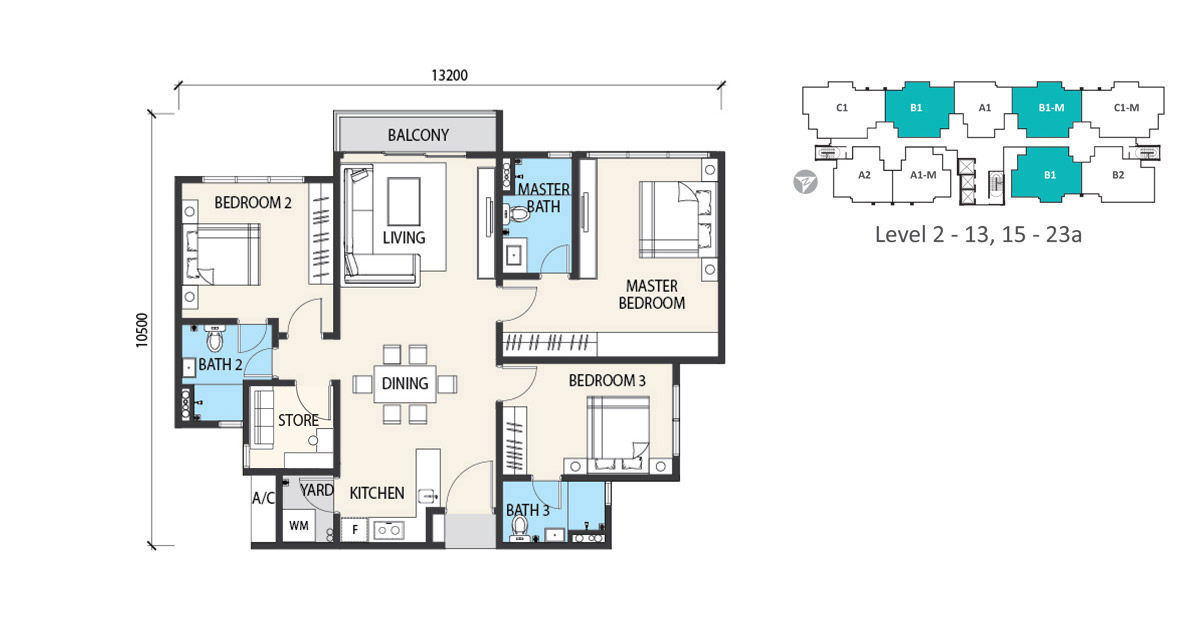 Type B1 . Built-Up: 1,216 sq ft . 3+1 Bedrooms . 3 Bathrooms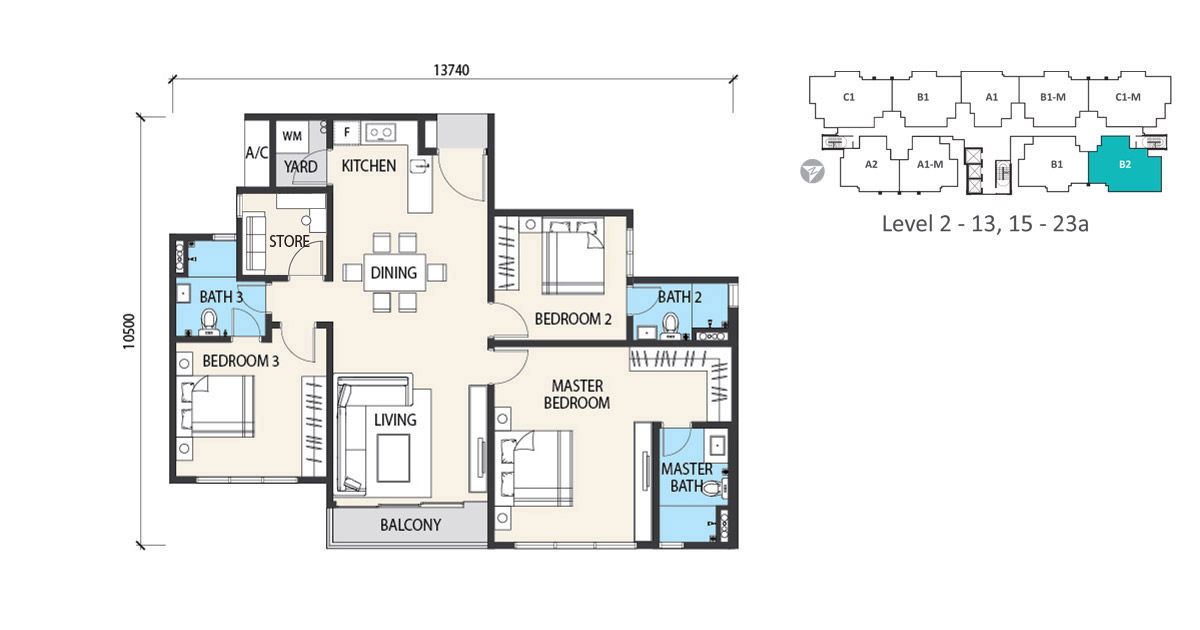 Type B2 . Built-Up: 1,227 sq ft . 3+1 Bedrooms . 3 Bathrooms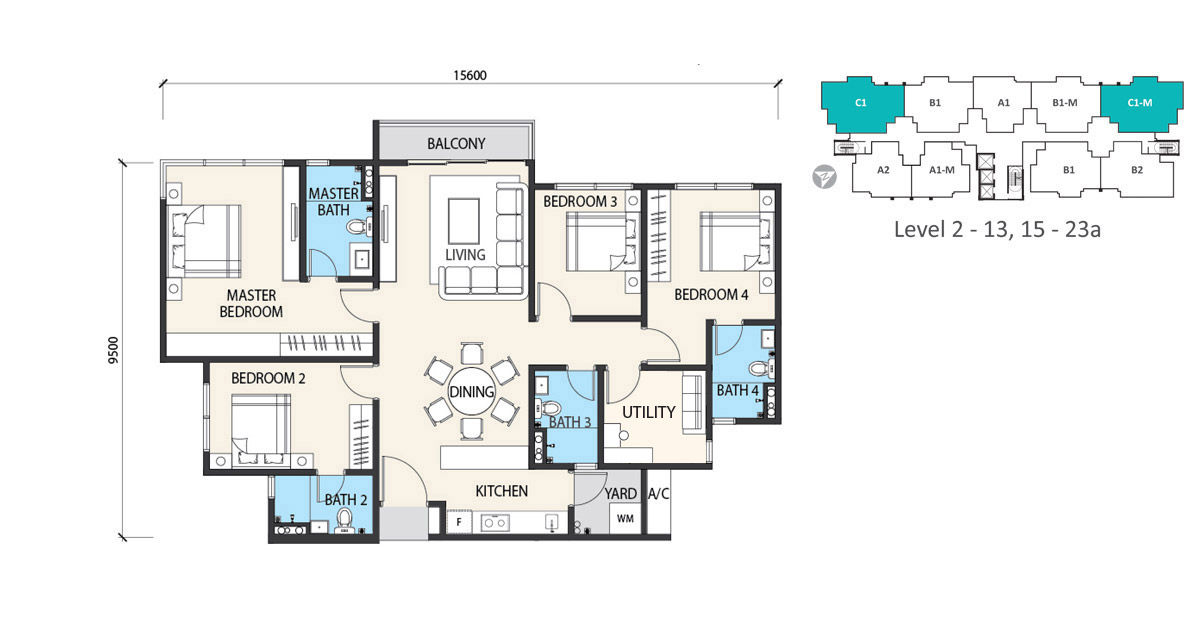 Type C1 . Built-Up: 1,431 sq ft . 4+1 Bedrooms . 4 Bathrooms
---
Alstonia Hilltop Homes MasterPlan
Below is the master plan of the entire development of Alstonia in Bukit Rahman Putra Sungai Buloh. The full masterplan is available once you submit an enquiry – we will email you the full masterplan details so that you can take the time to review and decide if this is your future home.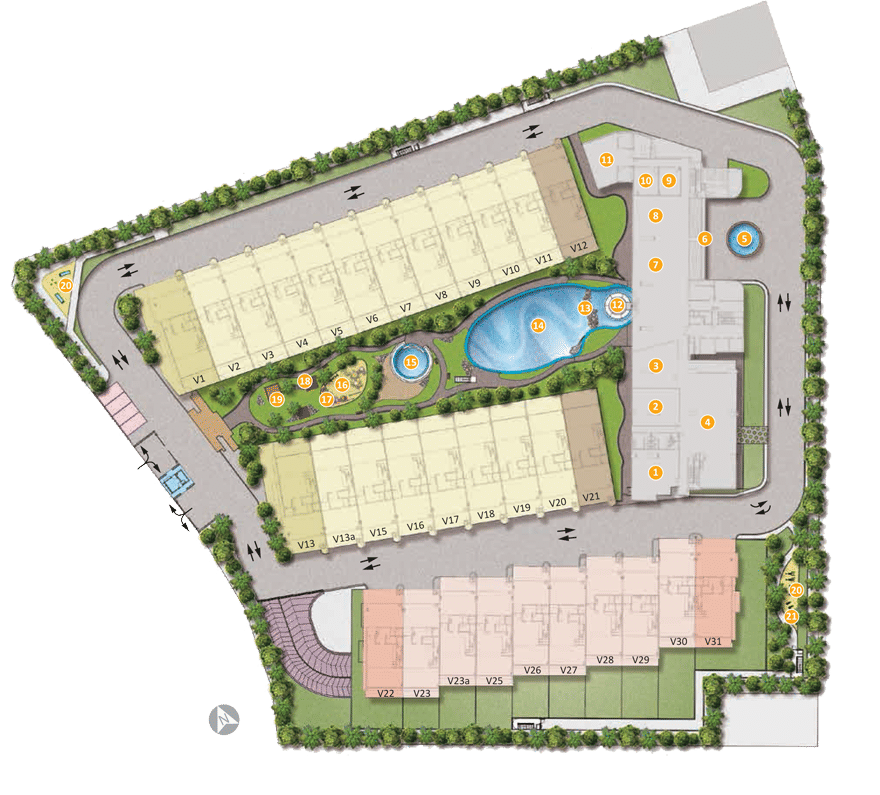 ---
Price of Alstonia Hilltop Homes
The indicative investment for Alstonia Hilltop Homes starts from RM598,000 – which is a very good value for a matured township like Bukit Rahman Putra.  The exclusive 3-Storey Garden Villas are priced from RM1.68 Million while the Garden Heights Condominium starts from RM598,000. Do note that these are indicative prices and may differ, depending on the unit of choice, additional promotion or rebates available at time of purchase. For exact and accurate pricing, do send us an enquiry and we will arrange for an authorized sales personnel to be in touch with you with the latest Alstonia price.