Mori Pines @Gamuda Cove
Mori Pines is the latest signature homes in Gamuda Cove. Inspired by Scandinavian living and architecture, Mori Pines features modern 2 storey terrace homes and 2 storey cluster Semi-D homes with 3 types to choose from. These open-layout homes has Scandinavian-inspired facade and Scandinavian-inspired facilities. This new phase is next to the 60-acre Central Park – view the masterplan below.
Check out the other properties in Gamuda Cove and Gamuda Cove property prices.
---
Mori Pines Homes
MORI PINES TYPE A
2 Storey Terrace House
20″ x 65″
1,785 – 2,144 sq ft
3 Bedrooms
2 Bath + 1 Powder Room (Intermediate)
3 Bath + 1 Powder Room (Corner & End Lot)
---
In this new phase, Type A has a shorter land area but 65 feet is still fairly reasonable for terrace homes. Interestingly, there is no bedroom on the ground floor so this allows a seamless flow of space between living, dining and kitchen. Additionally, there is a powder room instead of a bath on the ground floor – this make sense since there is no bedroom. Powder room are similar to baths minus shower/bath area and are usually smaller in size – so this is for your visiting guest to use and not for showering.
There are 3 bedrooms on the first floor. The usual family hall is replaced by an airwell to allows better lighting indoors. The 2nd bath is shared by the 2 bedrooms in intermediate units, while corners and end-lot units have en-suite bath for every room.
All in all, it is a great home for those who like entertaining because of the open layout on the entire ground floor. Think of the amazing kitchen island you can build with uninterruped walls and corners! Keep your private rooms out of peeking eyes as every room is on the first floor.
---
MORI PINES TYPE B
2 Storey Terrace House
20″ x 65″
1,864 – 2,343 sq ft
3 Bedrooms
2 Bath + 1 Powder Room (Intermediate)
3 Bath + 1 Powder Room (Corner & End-Lot)
---
Type B is similar to Type A with a small exception – the airwell is now a family hall area. Think of it as an extra space to put that TV or entertainment area for the family.
Similarly to Type A, it does not have a bedroom on the ground floor. The ground floor is a powder room – so much smaller in size and equipped with sink and toilet with no shower/bath features. The length of the land is also 65 feet but with a slightly larger build up – of the additional family hall space.
If you like to have a wide open layout but still want the traditional family hall in the first floor, Type B is for you. Imagine all the family gatherings you can organize at home – it is time to get that 10-seater dining table you've had your eyes on! Also, get started to dream about the kitchen you have in mind.
---
MORI PINES TYPE C
2 Storey Cluster Semi-D House
32″ x 70″
2,309 – 2,535 sq ft
4 Bedrooms
4 Bath
---
If Type A and Type B is not your cup of tea, then Type C might fit your requirements with a generous 32 feet width land! For this layout, a bedroom attached to a bathroom is available on the ground floor – perfect if you have an elderly relative or a visiting friend. Similarly it is an open concept for seamless flow as you move around home – no odd corners or enclosed spaces to make navigating difficult.
Cluster Semi-D offers you garden space on the sides so you can flex your green thumbs! Or a seating area, or a BBQ, or a fountain – the choice is absolutely yours!
On the first floor, you get 3 bedrooms with ensuite bathrooms. This is great for privacy, especially when you have grown up kids. Additionally the family hall is alike a second living hall for its generous size.
Type C is great if you are looking for a little more space to wiggle around home or if you spend a lot of time working from home. Or you simply want to accomodate an expanding family.
---
Mori Pines Price
Indicatively, Mori Pines prices starts from RM849k.
We have updated the prices of Mori Pines – click on the button below for full info.
---
Virtual Showroom
Take a peek at the virtual showroom of Type C – the Semi-D Cluster Home. Click on the below
---
Gallery
---
Masterplan & Siteplan
Mori Pines has got a large traction of area facing 60-acre Gamuda Cove Central Park, thus if you are one of the lucky ones who has a chance to own these units – the view is amazing! As you can see from the below masterplan, it is just beside Enso Woods and in front of MIO Spring.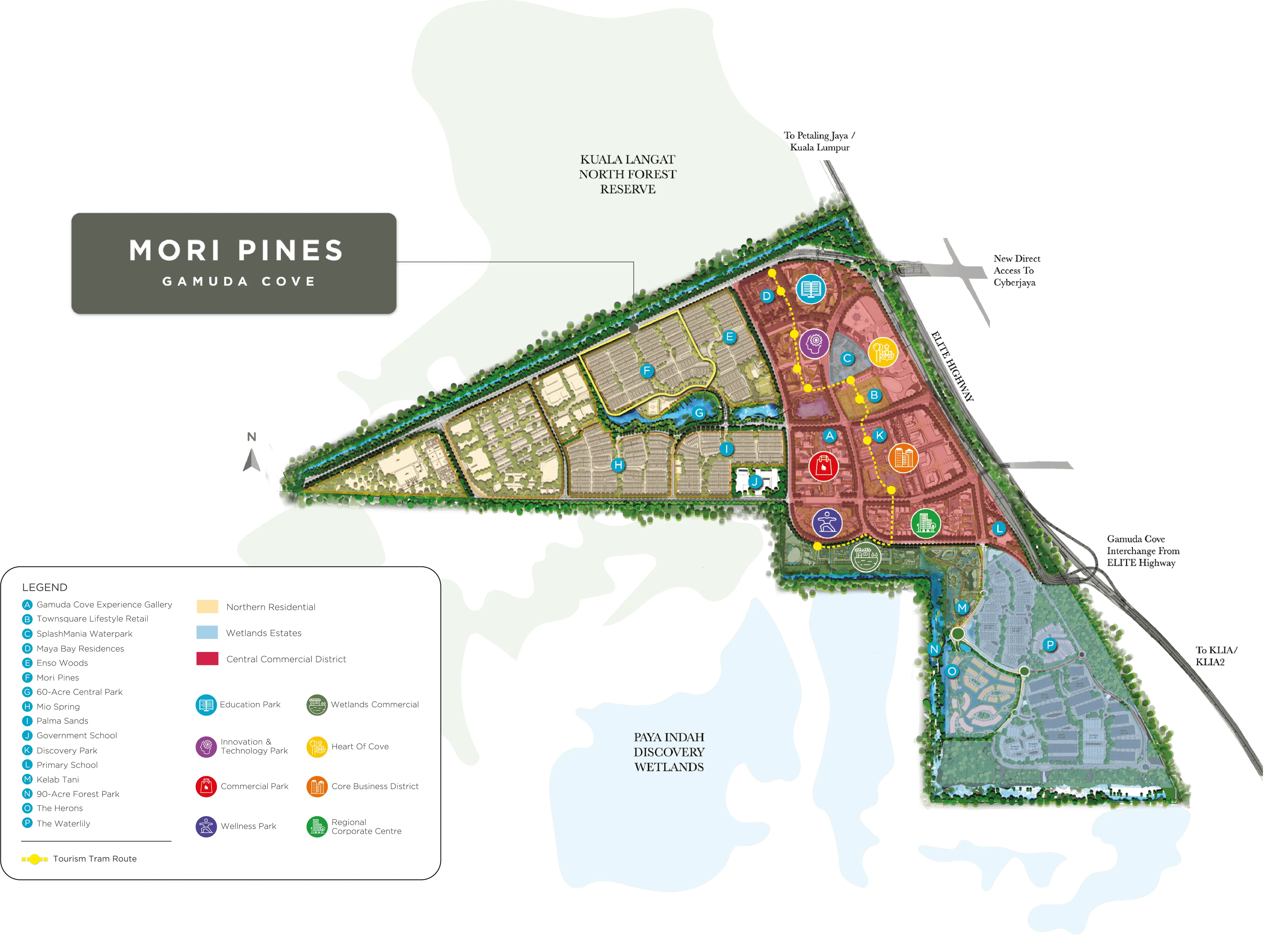 Here's a closer look a the siteplan of Mori Pines. In this siteplan is also a summarized version of the resident's-only amenities – including an open dec, basketball court, urban farming area and more. Check out the below for more details.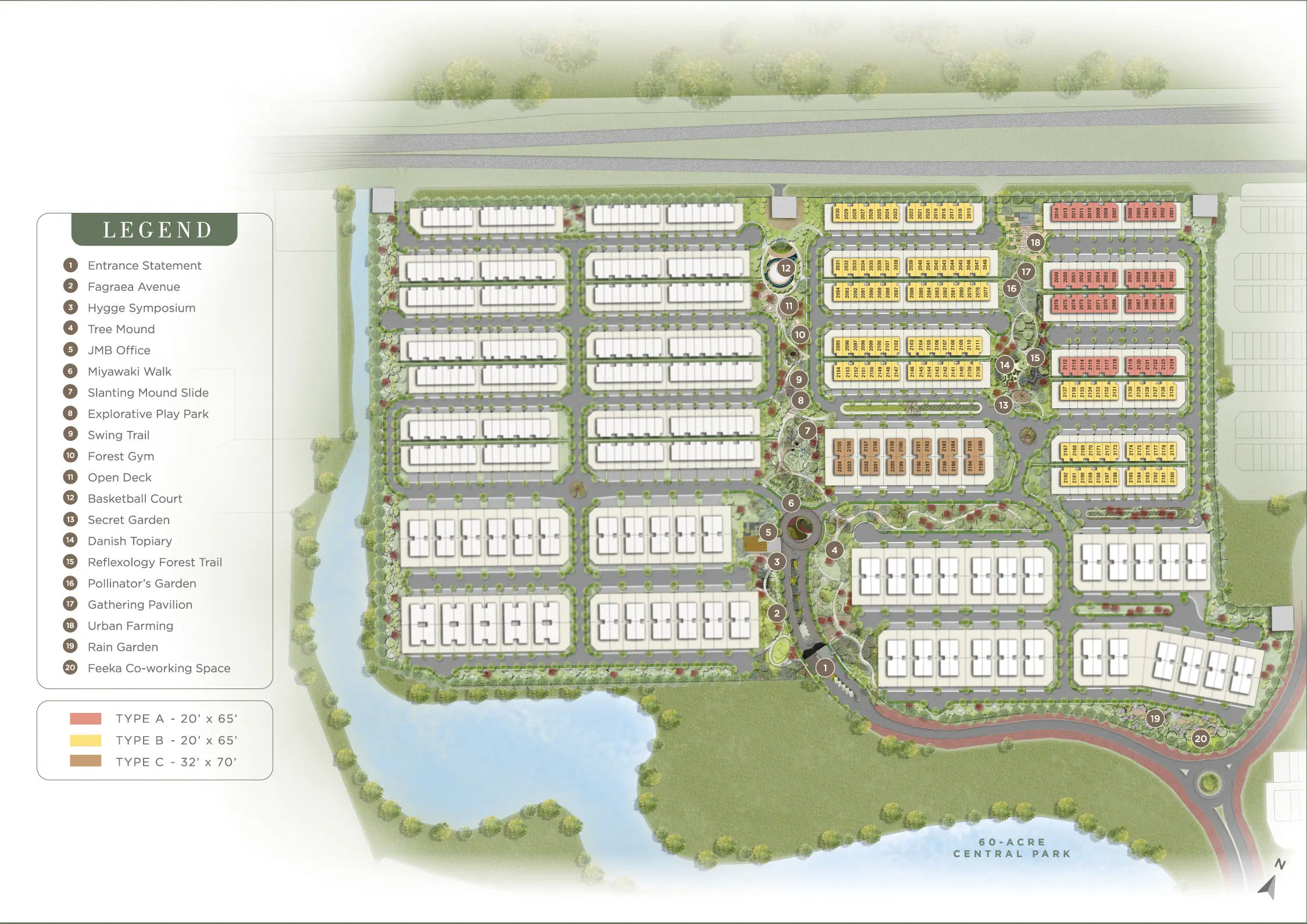 ---
Get more info on Mori Pines
Drop an enquiry for an authorized sales personnel to revert with more information.