Newly Opened Dog-Friendly Park at Gamuda Gardens
Dog lovers can now bring their furry friends to the dog-friendly park at Gamuda Gardens in Sungai Buloh / Rawang. Gamuda Gardens is an 810-acre mixed-township which features a picturesque lake with paved jogging & cycling path – and truly dog-friendly!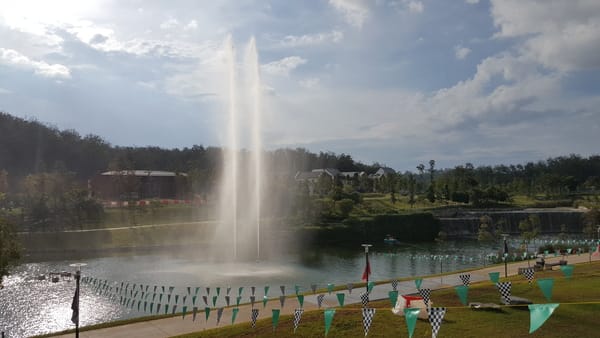 The lakes and park are open to the general public, and you can bring your dogs with you for a walk, a jog or enjoy nature. As a dog-friendly park, there are pet waste disposal bags provided by the developer (who maintains the lake & parks) as well as a dedicated waste disposal bin. Managed by Gamuda Parks, the park is open from 6:00 am to 10:00 pm, and owners are requested to leash your pet and clean up after your pet.
Recreational Area, Waterfront Village and F&B Area
The dog-friendly park is situated near the Waterfront Village and also the Sales Gallery. Due to be completed in 2020, the Waterfront Village will feature a variety of F&B outlets and shops for your convenience. Among the confirmed tenants of Waterfront Village are KFC, Tealive, 7-Eleven, Mr. DIY, Freshii and more outlets are being finalised.
How to get to Gamuda Gardens?
If you are not familiar with the area, Gamuda Gardens is located beside the North-South Expressway (if you are travelling to Penang via the highway from Kuala Lumpur) via Exit 115. It is an approximately 20-minute drive away from Jalan Duta Tol Plaza. Keep an eye on the exit numbers. You will pass by Exit 113 (Kepong/Sungai Buloh) and Exit 114 (Sungai Buloh Hospital) and then subsequently Exit 115. Upon exiting Exit 115, keep left to turn into Bandar Gamuda Gardens. Signages are aplenty on arrival and it is probably 800 meters away upon exit.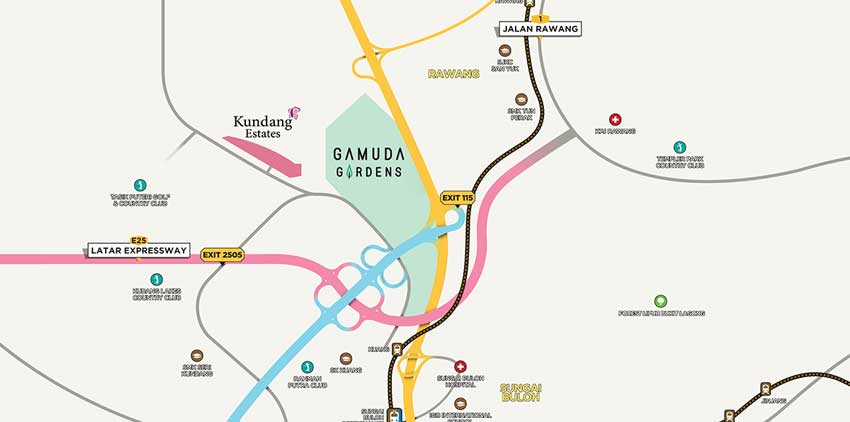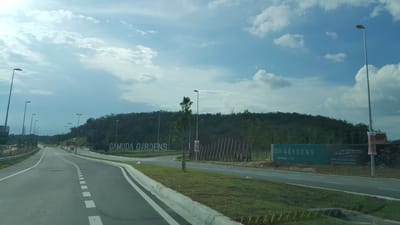 Living in Gamuda Gardens: New Terrace Houses, Apartments & Future Semi-Ds and Bungalows
Living near a dog-friendly park is of great convenience because you can quickly and easily bring your dog for walks without worrying that you will upset other park goers. The future residents of Village Homes and Lakeside Homes will be nearest to the lake, as there will be a small entrance for walking traffic to exit the gated & guarded residential area. These back-to-nature facilities are great for both you and your pets!
Phase 1 of Gamuda Gardens residential houses (called Village Homes) will be completed and ready-for-moving-in by early 2020. These modern homes with practical layouts with land sizes from 20″x70″ to 22″x80″ starts from RM790K. If you are looking for larger homes, the Linked Semi-D starts from 35″x70″ and offers additional space for your furry friend to run around. The Superlink Terrace starts from 24″x65″ and starts from RM940K. Refer to the latest Gamuda Gardens Prices for updated info.
The lake and dog-friendly parks are not the only lifestyle convenience in Gamuda Gardens. There is a Clubhouse with swimming pool and sports facilities for the residents. Alongside the lake are also lookout points, wetlands area, camping grounds for your enjoyment. The almost-completed Le-Pavillion is the latest addition – a private function venue that you can use for your events. There is also the newly launched Gardens Arena where football matches will be hosted. Among some interesting recreational establishments are the Rimba Waterplay and Luge. Inside Village Homes are also private parks (only accessible by residents), and more.
If you are keen on exploring living in Gamuda Gardens and make this a permanent home for you and your dogs, send us an inquiry and we will be happy to connect you to the dedicated sales team from Gamuda.