Gamuda Land recently signed eight Memorandum of Understanding (MoU) for its Gamuda Gardens township in Sungai Buloh, including the very first luge attraction in Malaysia!
Below is a snapshot of the news piece from Edgeprop. Full link to to the article :
https://www.edgeprop.my/content/1515871/concert-fireworks-dazzle-crowds-gamuda-gardens%E2%80%99-experience-gallery-launch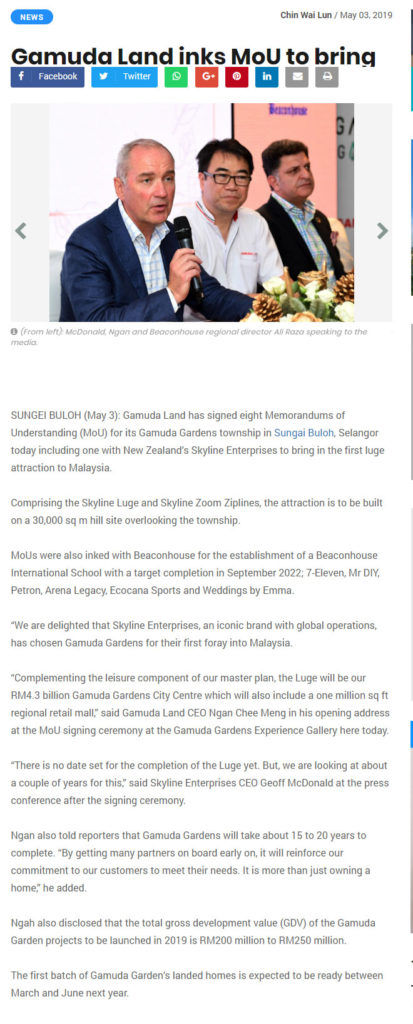 In case you are thinking what a luge is. (I was thinking about it after they told me about it and did a little google search) Below is a pic of Skyline Luge in New Zealand. Interesting!
As the township's first phase are in its advanced construction stages, Gamuda is starting to put all the jigsaw pieces together – unveiling interesting attractions, establishments and conveniences for the benefit of its future residents.
International School & Public Schools in Gamuda Gardens
According to the article, Beaconhouse will be establishing the Beaconhouse International School in Gamuda Gardens with target completion in September 2022. For those with school-going children, there is now an international school at the doorstep. This is in addition to the public schools that have been planned in the township.
4.3 Billion Gamuda Gardens City Centre
The Luge will also be part of the 4.3 Billion Gamuda Gardens City Centre which will also comprise of a 1 million sq ft regional retail mall. With a 15 to 20 year plan, Gamuda Gardens township is now taking shape into a full-fledge city of its own – with conveniences, amenities, education, medical facilities, entertainment, shopping mall, park, lake and more!
Homes For Everyone!
Those who are keen to live in Gamuda Gardens will be delighted as there are terrace houses, serviced apartments, linked semi-detached houses and more to come! The first phase of Village Homes (Terrace Houses) will be completed by early 2020 – and these exclusive homes are perched beside the beautiful Central Park overlooking the lake. A fully gated and guarded community with a modern facade and beautiful landscape, these homes are perfect for all urban lifestyle needs away from the hustle and bustle of the city. For those who are working in the city, Gamuda Gardens is right beside the 3 major highways (North-South Highway linking to NKVE), Latar Expressway and Guthrie Corridor Expressway) – so accessibility is superb! And did we mention that there is also the KTM Komuter (Kuang & Sungai Buloh) as well as MRT Sungai Buloh facilities in the vicinity- so if you favor using public transportation, you can drive to the station and use the rail network instead.