Gaia Residences
Gaia Residences is the first high-rise serviced apartment in Gamuda Gardens. Located near to the Waterfront Village and neighboring the Village Homes, Gaia Residences is spread across two towers of 17-storey and 18-storey each. There are a total of 500 serviced apartment units with 2-storey shops and retail shops for the convenience of the residents.
---
Facilities at Gaia Residences

Gaia Residences offers a variety of resort-inspired facilities for you to pamper yourself & your family as you rejuvenate amidst the natural surroundings of the township. Relax by the lazy river or take a dip in the beach pool. If you have green fingers, try your hands at the Urban Farm. Invite friends over for a get-together party at the BBQ deck. For the fitness buff, enjoy the indoor and outdoor gymnasium – all at the comfort of residents-only Gaia Residences facilities. Below is a facilities map:
Gaia's List of Facilities
Beach Pool
Lazy River Pool
Canopy Walk
Multi-Purpose Court
Outdoor Gym
Urban Herb Garden
Amphiteatre
Kid's Playground
Reflexology Path
BBQ Deck
Jogging Path
Multi-Purpose Hall
---
Initial Show Gallery Tour That We Attended

We were fortunate to get a glimpse of Gaia Residences during the Exclusive Preview in late March 2018 and we saw the show house of Gaia Residences in the configuration of 2 Rooms + 1 Bathroom and 2+1 Rooms + 2 Bathrooms. The virtual showrooms of Gaia Residence will give you the precise feel of these urban-sized apartments.
The layout features smart space utilisation with a squarish generously-sized yard – a very important feature in high rise living. The yard is an important element in Malaysian homes as a dedicated space for the washing machine, dryer, and housekeeping tools. The yard is also perfect for those heavier cooking like stir-frying while lighter cooking like steaming is ideal for the dry kitchen indoors.
Below is the model of Gaia Residences. As you can see the two blocks are spaced apart by the facilities and car park and there are a host of conveniences right at the doorstep with retail outlets fringing the development.  As Gaia Residences is located near Waterfront Village and the upcoming Gardens Square, you can also take a leisurely stroll for your daily necessities.  The Gaia Residences is a combination of smart convenient living within the vicinity of the cascading lake and all amenities within Gamuda Gardens.
You can now see the actual building as it is nearing its final stages of development.
---
Gaia Residences Floor Plan & Sizes

Below are the floor plan, layout, and sizes in Gaia Residences. For precise pricing information and availability, drop an enquiry (below) and we will get the authorized sales personnel to assist you.
TYPE B/BB
640 sq ft
2 Bedrooms, 1 Bathroom
Smart utilization of space. Feels spacious enough for a bachelor, a newly married couple, or a young family. Perfect starter home.  In fact, it is also a great retirement abode for those who would like an easy-to-maintain home.  2 Bedrooms are always the best-sized as they can fit a variety of profiles – owner or tenants alike.  
TYPE B1/B2
660 sq ft
2 Bedrooms, 1 Bathroom
Slightly larger than Type B.  The orientation of the bathroom is slightly different but other than that, the rest are similar.  Similarly, 2 Bedrooms are highly sought after because it is great for an easier-to-manage lifestyle. It is important to note that all Gaia units have a sizeable yard – which gives owners an opportunity to place the washer and dryer and all other cleaning essentials hidden from the main area of the home.
TYPE C/CC
750 sq ft
2+1 Bedroom, 1 Bathroom
A complete home perfect for a small family!  The plus one room can be a home office or a private working space (for those who are working from home – the new norm now!) or maybe it can also be a reading room, a craft room, or a walk-in wardrobe!  The apartment comes with a yard as this is an actual home, not a hotel room – so you'll likely need a space to put your washing machine and dryer.
Type D / DD
900 sq ft
3 Rooms 2 Bathrooms (Dual Key)
Dual keys are great for a variety of reasons. Renting out the additional space can give you recurring income. The separate entrance gives you & your tenant privacy and convenience. This additional room is perfect for a visiting guest. Alternatively, it can be an extension of your home for your elderly parent (so they have a space of their own) and you can still be very close to them while giving them privacy and a chance to live their own life.  Or maybe if you have grown-up children who want to get a taste of freedom to live on their own – this additional space can be their private abode.  
All floor plans, layout,s and prices are to our best knowledge and discrepancies may occur.
Please check out Terms of Use and Disclaimer when consuming this information.
View one of our favorite Gaia Residence floor plan, the Type C 750 sq ft with 2+1 room and 2 baths. The additional room is great as a study or hobby room, especially with the current trend of working from home (WFH) – so you can get some privacy for video conferencing or to get work done even if you have other family members at home. View the virtual showroom of Type C below and don't forget to check out the remaining Gaia Showrooms.
---
Location of Gaia Residence in Gamuda Gardens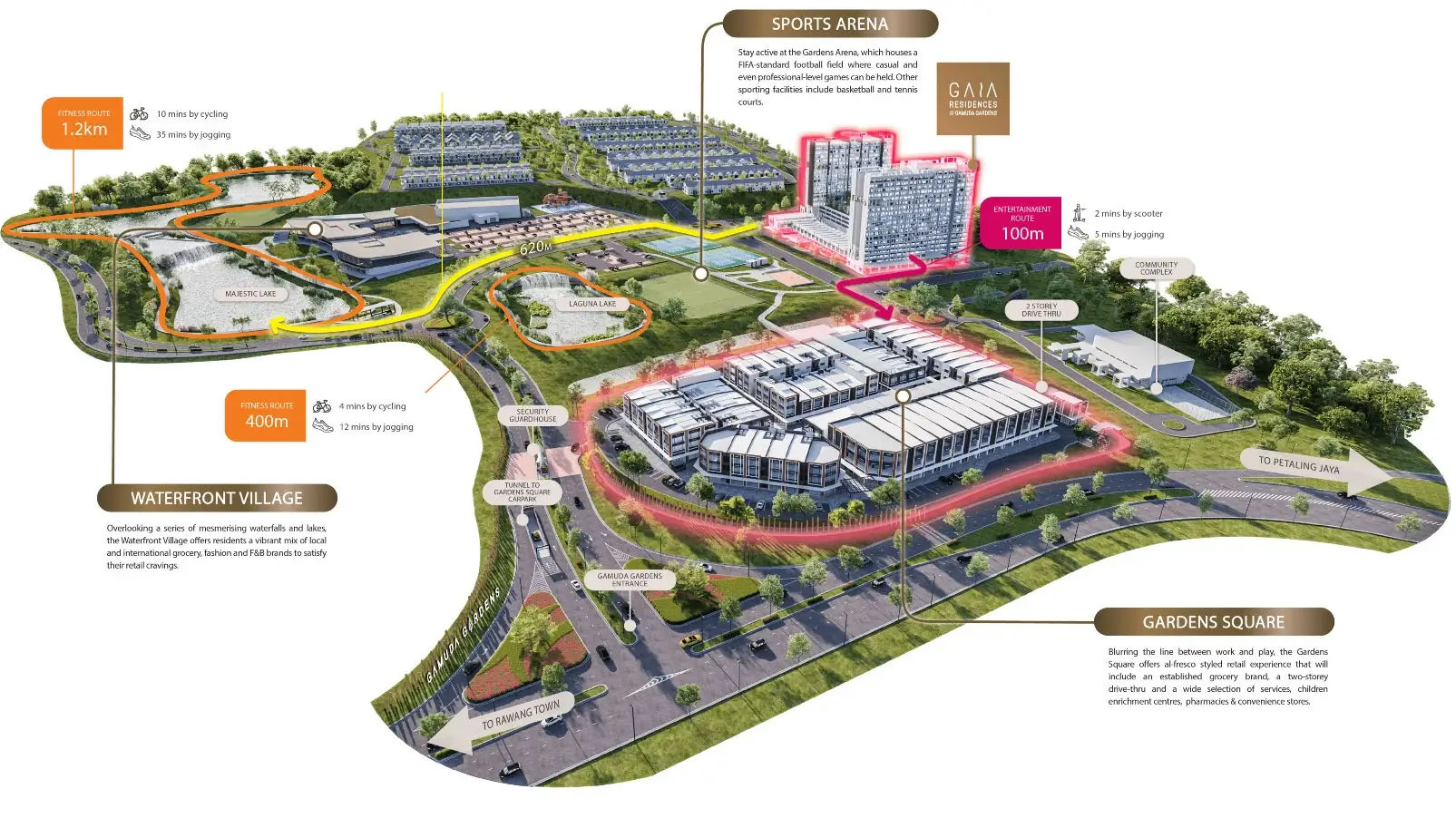 The Gaia Residence has a very convenient location, with easy access to the Waterfront Village, upcoming Gardens Square, and Sports Arena. There are only 500 units in the entire development, giving you added privacy and exclusivity.
Book a private visit to the Gaia Residence sales gallery and get a personalised tour to visit the property which is nearing completion. Very limited units available.
Check latest Gaia Residences prices here.