Sentral Suites
Sentral Suites is an exclusive luxurious residential condominium sanctuary with 2 acres of facilities and open spaces. It is truly a city escape for urban folks with all the lifestyle facilities and contemporary floor plans to suit every lifestyle requirement. With high demand from both buyers for their own stay and investors, there are less than 20% of units left to choose from. This project is by the prestigious developer, MRCB Land, and the expected completion date is May 2021. Launched in 2017, there are total 3 towers of 43-storey each with 458 units in Tower 1 & 2 and 518 units in Tower 3. There are also 41 retail shops on the ground and first floor for the conveniences of the residents of Sentral Suites.
Sentral Suites enjoy a world-class location, being at the heart of Kuala Lumpur – the KL Sentral which is also home to Malaysia's largest transportation hub that connects to Greater Kuala Lumpur and its surrounding areas. KL Sentral is also a preferred living area for expatriates due to the conveniences of the rail network around the city and to the KLIA International Airport. KL Sentral is the main hub for 6 rail networks – MRT, LRT, KTM Komuter, Monorail, ERL, and all the public buses you need to go anywhere in the city.
---
Sentral Suites Fact Sheet
Property Type : High Rise Condominium
Developer : Malaysian Resources Corporation Berhad (MRCB)
Location : Jalan Tun Sambanthan, Kuala Lumpur Sentral
Tenure : Leasehold (2115)
Target Completion Date : May 2021
Public Transportation : KTM / MRT / LRT / ERL and Public Bus
Price Range : Starting from RM750k to RM1.5M (Price may be subject to changes without prior notice.)
Property Sizes : 650 sq ft to 1,166 sq ft
Total Units : 1,434 Units (Tower 1 – 458 units; Tower 2 – 458 units; Tower 3 – 518 units)
---
Why Sentral Suites Is Your Perfect Home
If you are in search of a home, here are some reasons why Sentral Suites will make your perfect home – be it you are a first-time homeowner, upgrading your home, moving to a high-rise dwelling, or finding a perfect retirement home.
Strategic & Prime Location – It is without doubt that staying in the city gives you the convenience of all the amenities including education institutions (schools, colleges, universities), shopping conveniences (mall is just across the road or you can pop by Mid Valley City & KL Eco City which is just 3km away!), the main transportation hub (imagine needing to book a cab to go to the airport – now you can just walk to ERL which will ferry you straight to the airport – to and fro! No need to worry about your ride to the airport anymore!), food, night life and everything within easy reach. The location itself is a plus point irrespective of purpose of purchase – be it for your children leaving the nest, moving to the city for better career opportunities or even as a retirement home.
Floor Plan & Layouts To Suit All Needs – Whether you are looking for a cool bachelor/bachelorette pad, or a family home, or a home that you could also rent out partially (the dual key units!), or upgrading your current home to a luxurious address and prime location, or purchasing it for your children, or maybe for future planning of a retirement home – there would be one layout that will suit your lifestyle requirements. Sentral Suites has floor plans starting from 650 sq ft (1 room) right up to 1,166 sq ft (2 Bedroom + 1 Suite) – and configurations of 1 room, 1+1 room, 2 rooms, 3 rooms, 2 rooms + 1 suite – take your pick!
Amazing Facilities – Sentral Suites have 15 Sky Pods and 15 Sky Gardens exclusively for the residents to unwind after a long day – enjoy the view of the city while sipping a hot cup of coffee or just let the breeze blow your hair or let the sunset bring tranquility to your heart. There is an outdoor and indoor gym as well as taichi deck and reflexology path. If you are into swimming – there are 2 for your enjoyment.
Well Planned Community – There are 6 lifts in each tower to minimize long queues at the lifts. Additionally there are only 10 to 15 units per floor so that there is better privacy for each of the residents living in Sentral Suites.
Superb Accessibility – Besides the connectivity to other parts of Greater KL with the rail network, Sentral Suites also enjoy great accessiblity via network of roads and highways – among them are Jalan Duta, Jalan Travers, Mahameru Highway, SPRINT Highgway, Federal Highway and NPE. What I really like about Sentral Suite is the superb connectivity with all parts of Kuala Lumpur – so imagine if you are just too tired to drive, you can easily hop onto the LRT to go to your destination.
Good Demand – As per with all property purchases, always focus on location because that ensures good demand for your property in a long term period. If you choose to upgrade to a larger home in future, you can always rent out your Sentral Suites or sell it to other city dwellers who are interested to live closer to conveniences. The good demand also retains the value of your property (& appreciates as well!)
---
Floor Plan
Floor plan to suit all lifestyles and purposes of purchasing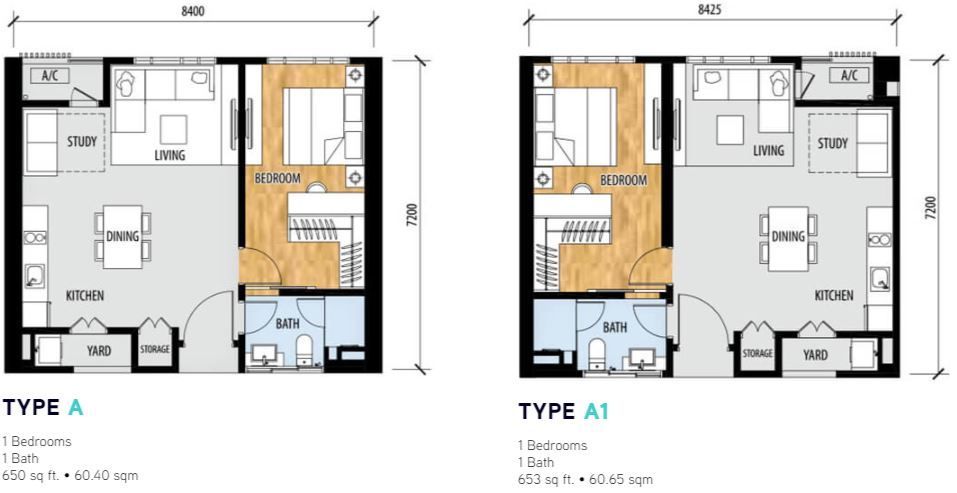 TYPE A & A1
This layout is popular for the bachelor or bachelorette or maybe a young couple. Small units that are not exactly small in size, thanks to the well-planned square layout.
1 Bedroom
1 Bath
650 – 653 sq ft
TYPE A & A1 CORNER
A different layout for the 1 bedroom units with an enclosed study corner which is perfect for a home office or maybe a nursery or just a nice reading corner.
1 Bedroom
1 Bath
724 – 765 sq ft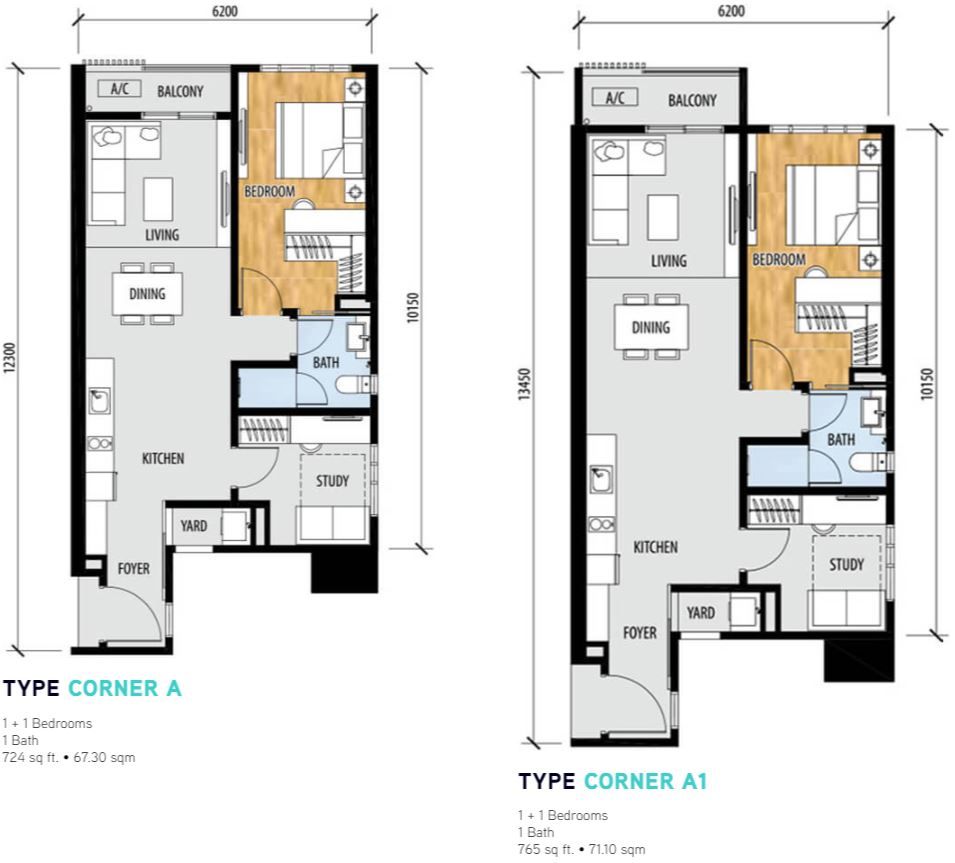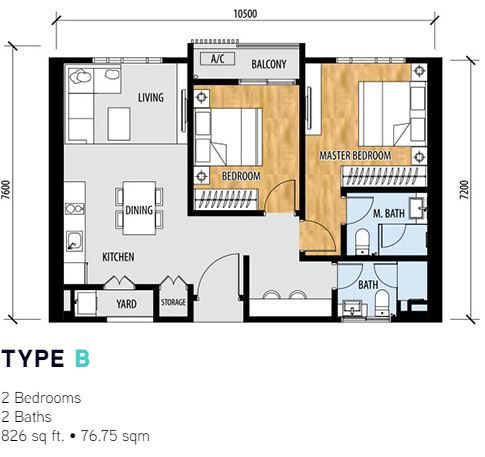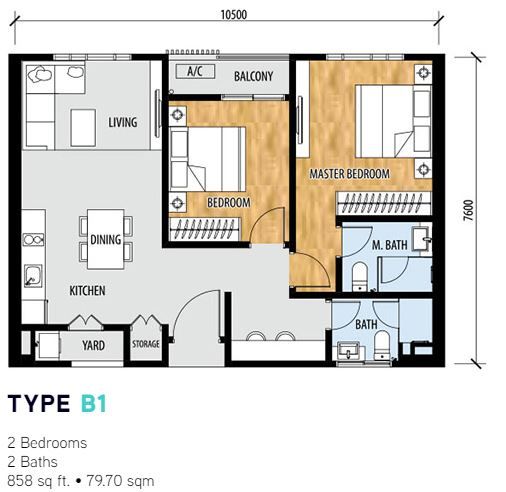 TYPE B & B1
Nice 2 Bedroom 2 Bath layout for a small family with a small study corner.
2 Bedrooms
2 Bath
826 – 858 sq ft
TYPE B2 & CORNER D
The first is almost similar to Type B & B1 – with 2 Bedrooms and Bath but with a smaller size of 812 sq ft.
The Type D is the interesting dual key unit, offering 2 Bedrooms and 2 Baths and a suite that is self sustinable. Perfect for a visiting relative or maybe an elderly relative that prefers to have their onw living space but still near to the rest of the family members.
2 Bedrooms
2 Bath
812 – 1166 sq ft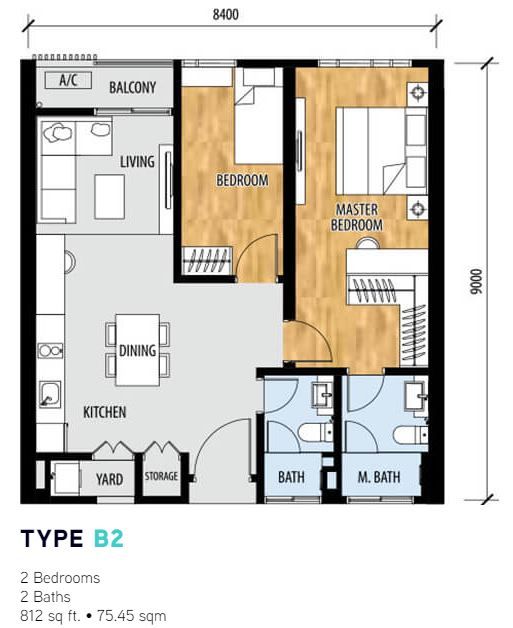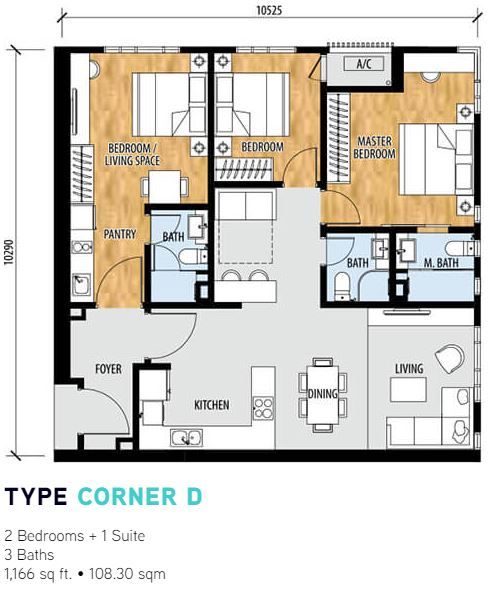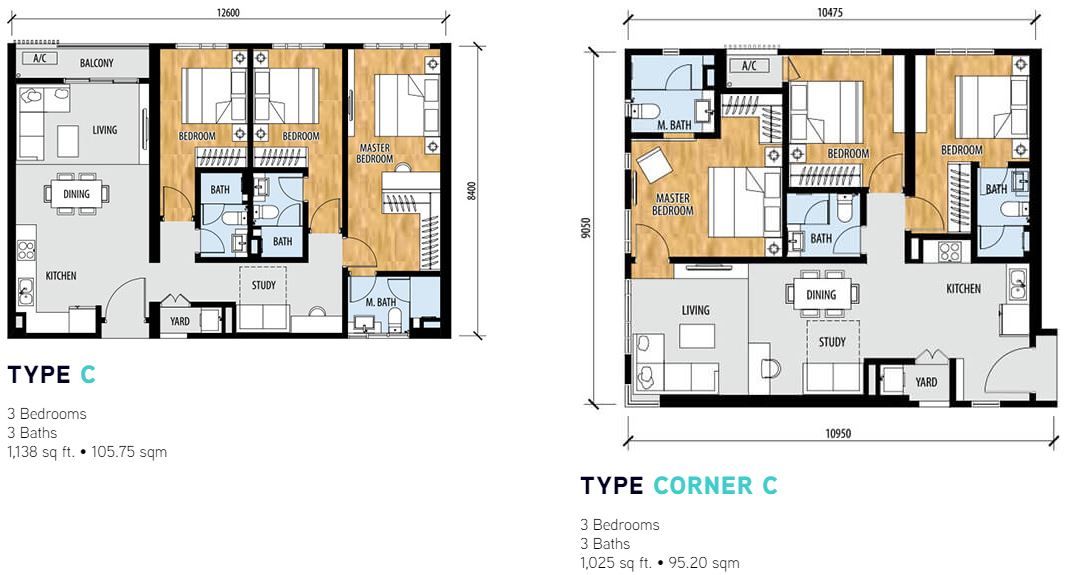 TYPE C & CORNER C
Nice 3 Bedroom 3 Bath layout for a small family with a small study corner.
3 Bedrooms
3 Bath
1,138 & 1,025 sq ft
Below is a video walk-through of the artist's impression of the Sentral Suites condominium – it will give you a rough idea of the facilities and the lifestyle it offers for the privileged residents of Sentral Suites.
---
Sentral Suites Masterplan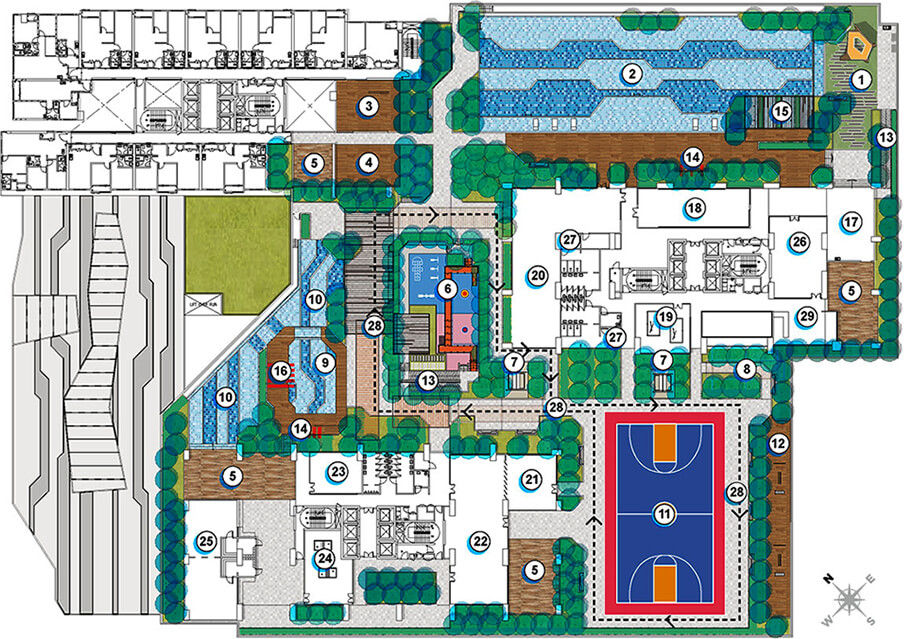 Sentral Suites has been made with all lifestyle requirements in mind – so you and your family can relax and enjoy your family time within the compounds of the condo itself. If you are a swimmer, you will enjoy the lap pool allowing you to exercise it out or if you are more of the type who likes to relax in the pool, there is a family pool for you to do just that. If you have small kids, there is a playground with a wading pool and lots of exciting water features to keep them entertained. For the mature crowd, there is a reading corner, billiard room, table tennis, and sauna. Check out all the 29 facilities in Sentral Suites!
---
Get More Info on Sentral Suites
If you are keen on purchasing a unit of Sentral Suites, drop us an enquiry (below) immediately and we will arrange a personalized visit to the Sales Gallery where an authorized sales personnel from MRCB will provide you with all the information you need with price and available units. As there are limited units available, do enquiry immediately for us to provide you with information for your consideration. Whether you are looking to invest or to stay, this luxurious condominium is a clear winner because of its winning location and unique proposition for its future residents.