Sentral Suites Floor Plan
KL Sentral, Kuala Lumpur
Sentral Suites floor plan comes in 10 well appointed layouts to ensure that every lifestyle need is met. The configurations comes in a choice of 1 Bedroom, 1+1 Bedroom, 2 Bedrooms, 3 Bedrooms and 2 Bedroom + Suite (Dual Key), with sizes starting from 650 sq ft right up to 1,166 sq ft.
The built up of each of the units are smaller to accommodate the busy lifestyle of a typical urbanite – so you spend more time enjoying the beauty of life and less on maintaining the home.  The urban sizes luxurious condominium units are well thought of, offering its residents space and comfort on top of the contemporary experience.
Sentral Suites Fact Sheet
Property Type : High Rise CondominiumDeveloper : Malaysian Resources Corporation Berhad (MRCB)Location : Jalan Tun Sambanthan, Kuala Lumpur SentralTenure : Leasehold (2115)Target Completion Date : May 2021Public Transportation : KTM / MRT / LRT / ERL and Public BusPrice Range : Starting from RM750k to RM1.5M (Please enquire for latest promotion package)Property Sizes : 650 to 1,166 sq ftTotal Units : 1,434 Units (Tower 1 – 458 units; Tower 2 – 458 units; Tower 3 – 518 units)
The Perfect Floor Plan & Layout in KL Sentral Suites
Irrespective of your intention of purchasing the Sentral Suites, there is something that would entice you.  We like the single bedroom unit as we enjoy the open plan layout, squarish configuration (that maximizes the use of space compared to longish rectangle layout) and more importantly the flexibility of going on long nomadic breaks without having to worry about massive cleaning at the end of the vacation. Let us tell you a little more about our thoughts behind each of the layout and why we think they have really been thoroughly thought through. Lets get to it…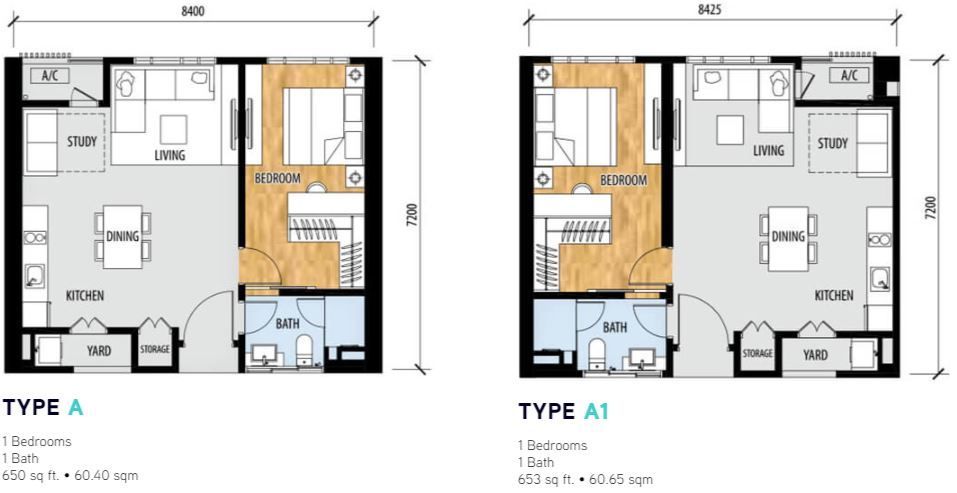 TYPE A & A1
This layout is popular for the bachelor or bachelorette or maybe a young couple. Small units that is not exactly small in size, thanks to the well planned square layout.
1 Bedroom
1 Bath
650 – 653 sq ft
We always stress the importance of having a bedroom even for a suite unit because you want to separate sleeping space from the living, dining and kitchen. Having the bedroom behind a wall and closed doors is added privacy. So even if you have a relative or friend sleeping over on your couch, there is still a little privacy you retain for yourself.
TYPE A & A1 CORNER
A different layout for the 1 bedroom units with an enclosed study corner which is perfect for a home office or maybe a nursery or just a nice reading corner.
1 Bedroom
1 Bath
724 – 765 sq ft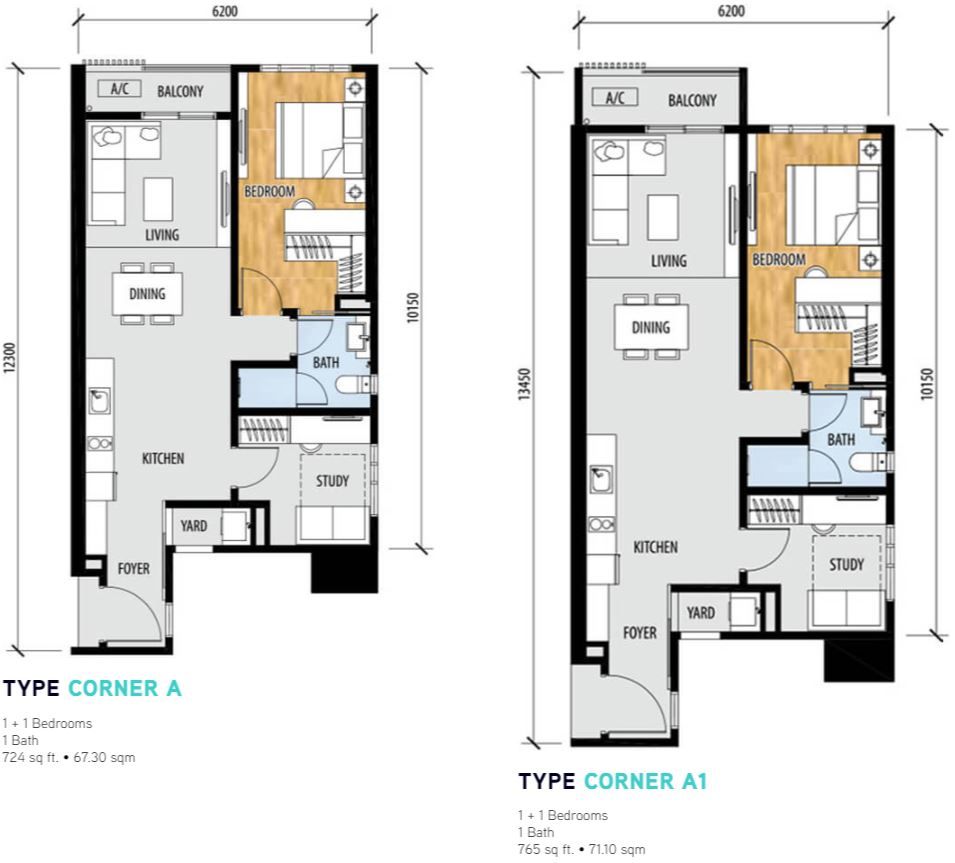 A slightly larger version of the Type A unit and the foyer is a nice touch. A foyer is always an opportunity to give your home a lasting first impression (hint! be creative). The study in a corner of its own is perfect as a small office. For those who work from home or is a digital nomad – this nook corner is perfect to stay focused on work while everything else can go around the house. And if you need a break, the balcony offers you a perfect retreat with a cup of coffee.  This floor plan still allow you to enjoy a full size living room combined with the living room – so it is still perfect for entertaining!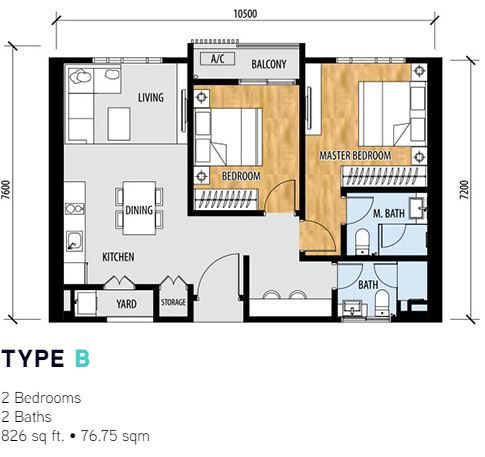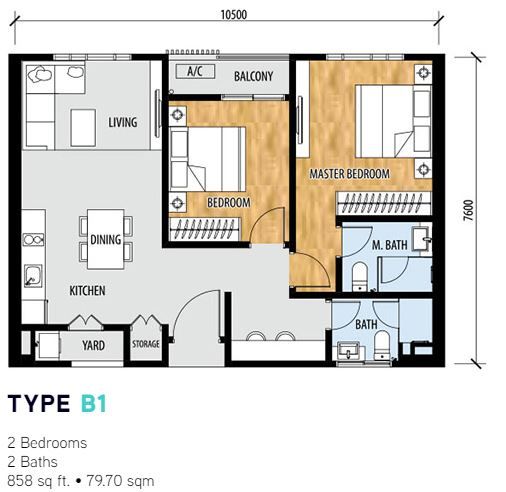 TYPE B & B1
Nice 2 Bedroom 2 Bath layout for a small family with a small study corner.
2 Bedrooms
2 Bath
826 – 858 sq ft
These are 2 bedroom units – so its perfect for a small family. Having said that, the extra room can also double up as a guest room or a home office. We like the idea of having an extra room, especially when you are the ONLY friend who lives in the Central Business District of KL Sentral! So when everyone is too tired to make a long journey home, offer them a space to bunk! If you notice, Type B of Sentral Suites also offer storage space so you can keep all those clutter away from public eyes.  The yard is an ever so necessary space in all urban apartments and we stress on this so much because you definitely need it for your washing machine and dryer, your cleaning essentials and everything else that don't belong in your living space.
TYPE B2 & CORNER D
The first is almost similar to Type B & B1 – with 2 Bedrooms and Bath but with a smaller size of 812 sq ft.
The Type D is the interesting dual key unit, offering 2 Bedrooms and 2 Baths and a suite that is self sustinable. Perfect for a visiting relative or maybe an elderly relative that prefers to have their onw living space but still near to the rest of the family members.
2 Bedrooms
2 Bath
812 – 1166 sq ft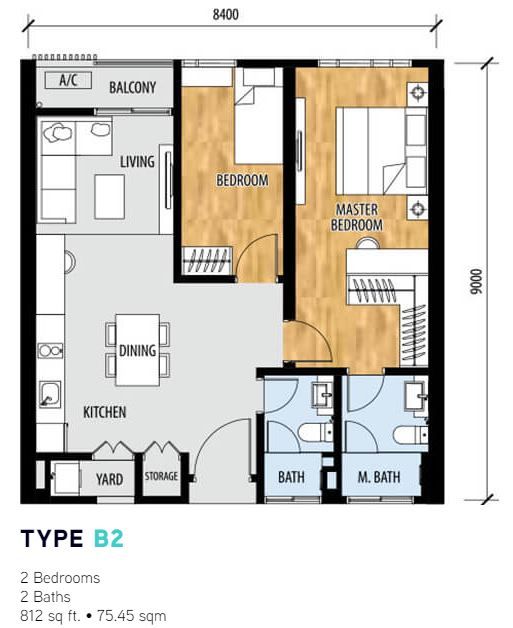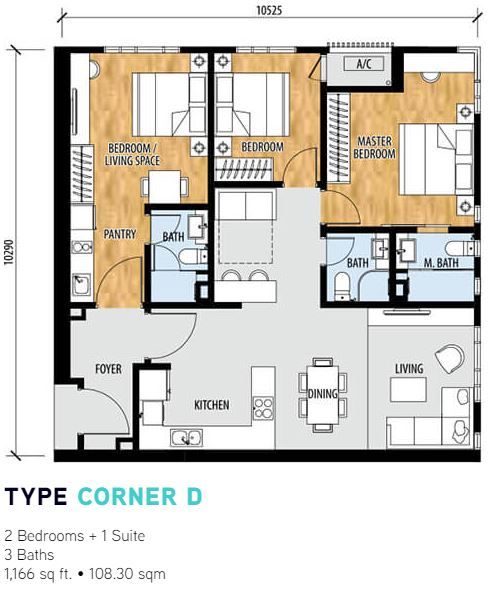 We lumped this two together, but we are going to talk about this separately.Type B2 – This is quite similar to Type B and Type B1 – for the exception that the layout differs a little. So instead of a balcony in the bedroom, you have the balcony at the living instead.  So its a wide open space once you walk into the unit. Spacious feeling is the keyword here.Type D Corner – We always like corner units because you have a different view on each side. This is a Dual Key unit, so you can apportion out the suite for a relative, a friend or maybe to be rented out. While most people are thinking of renting it out, we'd like you to consider the fact that it could be a space you want to live in. If you are a bachelor, you may want to live in the suite and rent out the larger 2 Bedroom side of the unit.  When the need arise where you need more space, then you could always "upgrade" to the 2 bedroom side of your own unit. Once the family grows, you can even make small changes and turn the suite into your room – having a full 3 room unit. This unit is also perfect for a retiree because you can live on either side and rent out the other side for monthly income rental.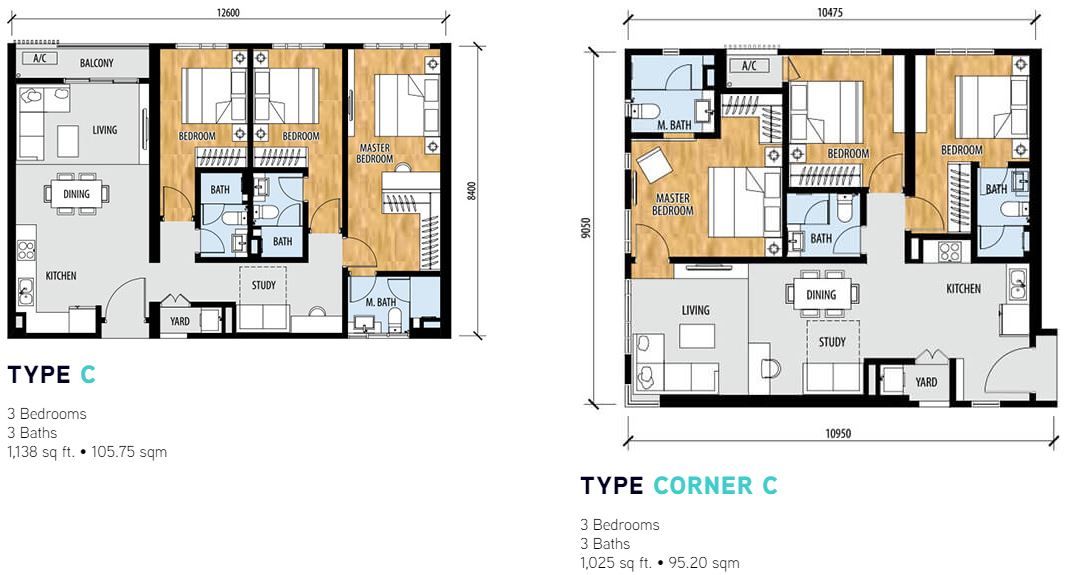 TYPE C & CORNER C
Nice 3 Bedroom 3 Bath layout for a small family with a small study corner.
3 Bedrooms
3 Bath
1138 & 1025 sq ft
We like the intermediate Type C because the bedrooms are neatly tucked in a corner of its own with a hall way that can be carved out as a study or reading corner or small family area. Two bedrooms comes with ensuite bathroom so that is going to be a plus point for those with growing children who prefer additional privacy. Wide open layout plan so nothing is cluttered. And a balcony is always good to enjoy the breeze and surrounding. The corner unit is slightly smaller in size but still has 3 bedrooms and 3 bathrooms with the usual open spaces. No balcony but you'll have a larger view of the surroundings.
Get More Info on Sentral Suites
We find all the layouts equally functional and interesting for the modern lifestyle. If you are keen on purchasing a unit in Sentral Suites, drop us an enquiry and we will arrange for the authorized sales personnel to reach out to you and give you a brief of the available units, price of the units and special promotional offers (if any). You will also be feasted to the well designed show gallery comprising of two of the layouts so you can get a better idea of the finishing and quality that MRCB offers.