Sentral Suites Prices
KL Sentral, Kuala Lumpur
Artist Impression of Sentral Suites KL Sentral Malaysia
Sentral Suites prices differs according to unit's size, floor plan and floor.  We however have an indicative investment for KL Sentral Suites for future home owners like yourself to consider. At time of writing, the price of Sentral Suites starts from RM750K – which is a steal for a prime property in KL Sentral, Kuala Lumpur's main transportation hub.
This luxury residence by MRCB, one of Malaysia's prominent developer, features a total of 1,434 units in 3 Towers of 43 storey each. The take up rate for Sentral Suites has been very encouraging, with units being snapped up by investors as well as those who are purchasing for their own stay. The location in the Central Business District is a key likability factor plus the ease of accessibility is an absolute plus point for both expatriates (KLIA airport being only a train ride away) and locals (working anywhere within the LRT, MRT, Monorail and KTM Komuter)
KL Sentral Suites Price
Developer : Malaysian Resources Corporation Berhad (MRCB)Location : Jalan Tun Sambanthan, Kuala Lumpur SentralUnit Sizes : 650 to 1,166 sq ftUnit Configuration : 1 Room, 1+1 Room, 2 Rooms, 3 Rooms, 2 Rooms + Studio (Dual Key)Towers : 3 Towers, 43 Storey eachTotal Units : 1,434 Units (Tower 1 – 458 units; Tower 2 – 458 units; Tower 3 – 518 units) Target Completion Date : May 2021Price Range : Starting from RM750k to RM1.5M (Please enquire for latest promotion package)(NOTE : All prices are approximate and is meant as an indicative informational information only. For detailed and updated prices with the available units, please send us an enquiry and we will arrange for the authorized sales personnel to reach out to you)
What's Unique At Sentral Suites
Located Within The Largest Transportation Hub
Kula Lumpur's Transit Oriented Development (TOD) and self sustainable city where residents can work, live and entertain within KL Sentral. Sentral Suites enjoy superb connectivity with MRT, LRT, Monorail, ERL within a stone's throw away.
Conveniences At Your Doorstep
Surrounded by established amenities ranging from shopping malls, financial institutions, education institutions, offices, 6 rail network transportation hub, network of highways to connect you to Kuala Lumpur, Petaling Jaya & more.
Central Business District & High In Demand Location
Living in CBD means proximity to business opportunities and working conveniences – which can save you time & money. If you choose to divest in future, there are also ample workforce in the area comprising of both local and expatriates.
Sentral Suites Superb Location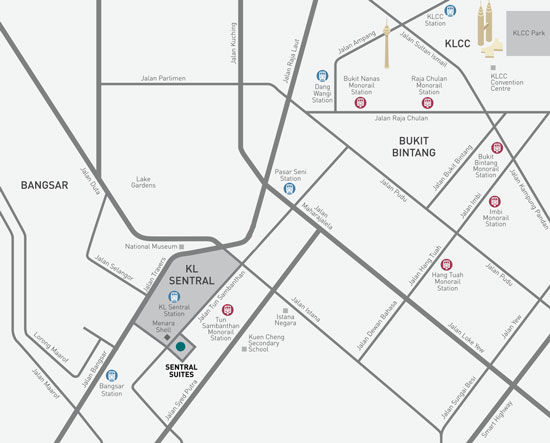 If there is one thing about buying any property (be it for investment or for your own stay and enjoyment), it is the location of the property itself. Sentral Suites prides itself to be in the centralised location of KL Sentral – that enjoys not only access to the 6-rail network connectivity (connecting you to Greater Kuala Lumpur) but also a premium address of KL Sentral. The world class location is home to a myriad of luxurious hotels, boutique residences, multi national corporations & offices as well as shopping malls – and Sentral Suites is just at the doorstep of these – opening up business opportunities as well as career choices.
Detailed Information on Sentral Suites
For available units and latest pricing of KL Sentral Suites, drop us an enquiry and we will arrange for an authorized sales personnel from MRCB to invite you for an exclusive preview at the sales gallery.