Review of Sentral Suites
Living in Sentral Suites – the main transportation hub of Kuala Lumpur
Living in Sentral Suites means you have superb access to the Greater Kuala Lumpur as the largest transportation hub is just a stone's throw away from the condominium unit.  In our opinion, Sentral Suites is well suited for young and young-at-heart alike because of all the nearby amenities, in-house facilities to cater for all lifestyles and the vicinity to Kuala Lumpur, Petaling Jaya and Bangsar.
Firstly, lets look at some of the key facts of Sentral Suites.
Sentral Suites Fact Sheet
Property Type : High Rise CondominiumDeveloper : Malaysian Resources Corporation Berhad (MRCB)Location : Jalan Tun Sambanthan, Kuala Lumpur SentralTenure : Leasehold (2115)Target Completion Date : May 2021Public Transportation : 6 Rail Network (KTM / MRT / LRT / Monorail / ERL) and Public Bus, Cabs etcPrice Range : Starting from RM750k to RM1.5M (Price may be subject to changes without prior notice. Please send us an enquiry for latest updated pricing & available units)Property Sizes : 650 sq ft to 1,166 sq ft with configuration of 1, 1+1, 2, 3 Bedrooms and Dual Key Units.Total Units : 1,434 Units (Tower 1 – 458 units; Tower 2 – 458 units; Tower 3 – 518 units)
Sentral Suites Is For Everyone!
Irrespective of your age group, purpose, family size and occupation, there is a Sentral Suite layout suitable for you.  We are going to cover all the key reasons why Sentral Suite should be on your property consideration list.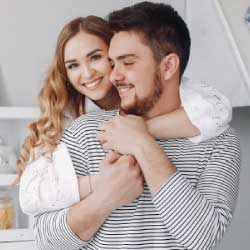 YOUNG COUPLE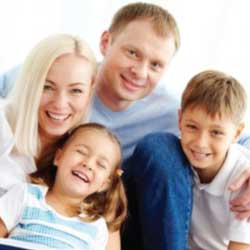 YOUNG FAMILY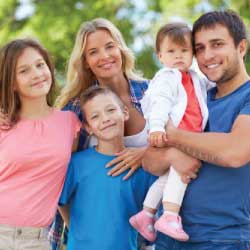 FAMILY WITH TEENS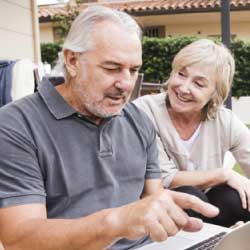 RETIREES
Vicinity to the Kuala Lumpur City Centre & CBD : When you are in the middle of the city, anywhere within Kuala Lumpur, Petaling Jaya, Bangsar is near to you. It is so easy to make appointments with friends and business associates.  For the homemaker, it will be easier to run errands when administrative offices and everything you need is within reach.
Strategic and Prime Location : As with all property talk, the focus is always on location.  With Sentral Suites, it is hard to go wrong when it is located along Jalan Tun Sambanthan in KL Sentral.  Mid Valley City & KL Eco City is just 3km away and you will be neighboring Bangsar and KL City.  The location itself is a plus point irrespective of purpose of purchase – be it for your children leaving the nest, moving to the city for better career opportunities, upgrading to live in the city (to save time & money from sitting in long traffic congestions) or even as a retirement home.
Prestigious address – KL Sentral exudes quality lifestyle and fine living.  Live among the finest residences in KL Sentral such as Suasana Sentral, Dua Sentral, St. Regis Residences and more.
Access to business and career opportunities – Being in the central hub of business activities with a myriad of MNCs and large corporations calling KL Sentral home, you can be sure that there will a lot of opportunities for business and career options.
Future demand – With a large working force around KL Sentral and limited residential units due to limited space in the city centre, Sentral Suites is well positioned for good demand now and in the future. So if you have a change of mind due to a growing family need and want to move elsewhere, you can always sell or rent out your unit.
Luxurious Facilities – Sentral Suites have 15 Sky Pods and 15 Sky Gardens exclusively for the residents to unwind after a long day – enjoy the view of the city while sipping a hot cup of coffee or just let the breeze blow your hair or let the sunset bring tranquility to your heart. There is an outdoor and indoor gym as well as taichi deck and reflexology path. If you are into swimming – there are 2 for your enjoyment and a host of other facilities​.
Floor plan to suit your lifestyle need – A bachelor pad or a family home? Either way, there are 10 floor plan and layout for you to choose from.  If you are thinking of generating some income while living in your own home, opt for the Dual Key unit which is ia 2 Bedroom with a Suite with a separate entrance.  If you are thinking of upgrading to live in a prime and prestigious location, Sentral Suites if your answer. If you are planning for retirement and want a smaller space but still live in the city, Sentral Suites is perfect for your needs.  Sentral Suites has floor plans starting from 650 sq ft (1 room) right up to 1,166 sq ft (2 Bedroom + 1 Suite) – and configurations of 1 room, 1+1 room, 2 rooms, 3 rooms, 2 rooms + 1 suite – take your pick!
Surrounded by amenities and established neighborhood – All the convenineces of shopping mall, education institutions, medical facilities, transportation are within a stone's throw away which means you don't have to travel far for your daily needs.
Take a peek on the practical floor plan of Sentral Suites
I am highlighting one of the many floor plan in Sentral Suites.  This is Type D corner dual key unit with 2 Bedrooms plus a separate Suite. An urban-sized apartment at 1,166 sq ft, this unit has a large foyer that separates the suite and the main living space.  Here's a few ways to use the separate suite:
Rented – perfect to generate an extra income
Home Office – if you are working remotely, this can be a dedicated office for you to get work done AND still stay close to home. It will be very cost effectively and very practical if you have children at home.
Crafts Room – for those who love crafting, we all know how much space all our supplies need. So get a spot just for your hobby – why not?
Man's Cave – the urban version of a man's cave. Give the man a space he can call his own – let his host his buddy gathering or game time and let his friends sleep over as much as they want without disrupting your main living area.
Elderly Parent Space – give your parent the space they need but still be close enough to be there in times of need. Everyone needs their own private spot, so this is just perfect.
Guest Room – Give your guest their own private space so that they feel comfortable enough to put their legs up.  At the same time they can still pop by your main living area to gather and mingle. They would have their own freedom to get in and out with separate entrances – so it will be just perfect.
Adult Kid Room – Once the kid is an adult and need his own space, the suite can be his own personal space until he is ready to move out of the family home. Give them the privacy they need but still keep them close until they are ready to be on their own.
Master Bedroom – The family grows and you need additional space – so you can convert the suite into your bedroom.  Since it shares a foyer, you can keep the second door open to make it part of the main home.
So there is many uses for an extra room and you can have all these and more when you own it!  Drop us an enquiry and we will arrange for you to speak to the authorized sales personnel so that you can take a pick of the unit of your choice.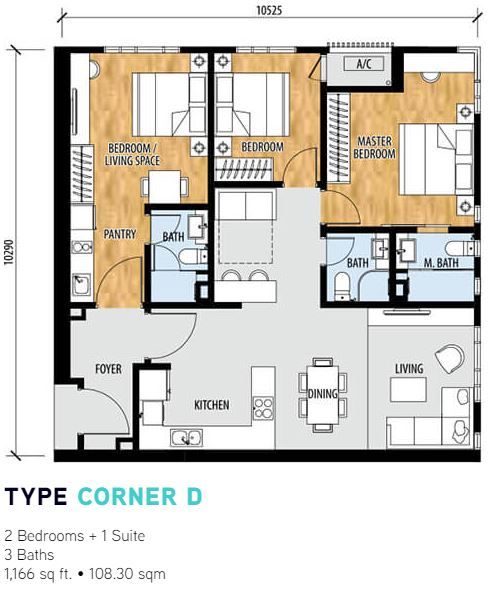 Location of Sentral Suites
In case you are still not sure of the location, here's a drawn map of the location of Sentral Suites in KL Sentral.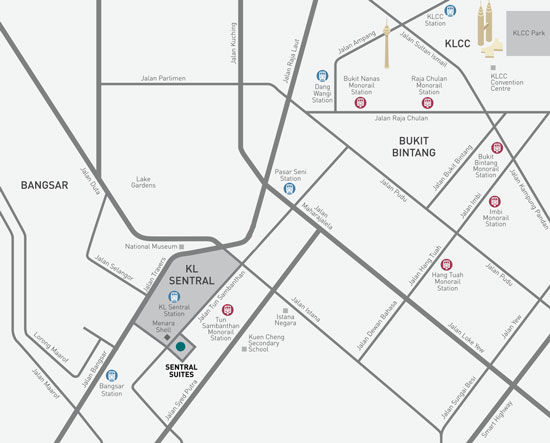 Get More Info on Sentral Suites
Don't miss out the opportunity to be an owner of Sentral Suites. We would be happy to schedule a visit to the show gallery where you can get additional information about this development. We believe that it is crucial for you to have all the right information prior to making a purchasing decision – so drop an enquiry below and we will arrange for the authorized sales personnel to arrange your personalized visit to the sales gallery.