Notice: Undefined index: width in /home/chewmeil/public_html/malaysiapropertyreviews.com/wp-content/plugins/convertplayer-video-lead-capture-player-for-youtube-vimeo/php/core.php on line 29

Notice: Undefined index: height in /home/chewmeil/public_html/malaysiapropertyreviews.com/wp-content/plugins/convertplayer-video-lead-capture-player-for-youtube-vimeo/php/core.php on line 30

The Pano By OCR
[cft format=0]

The Pano is located at downtown Jalan Ipoh which comprises of 363 residential units measuring from 598 sq ft to 1,831 sqf. Fronting the busy main road, The Pano is a serviced residence development spanning across 1.82 acres in one of Kuala Lumpur's popular urban enclaves. With two floors of exciting range of facilities, lush greenery and garden terraces makes The Pano a true lifestyle abode for the urbanites. The developer also plan to have an outdoor thematic cinema at the rooftop with the view of the KL city.

The location of the project at Jalan Ipoh, which is within a few minutes' drive to main shopping centers, leisure and entertainment outlets such as Suria KLCC,  Pavillion and Avenue K. For those working in the Golden Triangle of Bukit Bintang or Kuala Lumpur City Centre, it is just about 10 minute drive away in normal traffic. Another selling point is the medical centres are also nearby such as National Heart Institute, KL General Hospital, Sentosa Medical Centre, Damai Service Hospital and KPJ Tawakkal.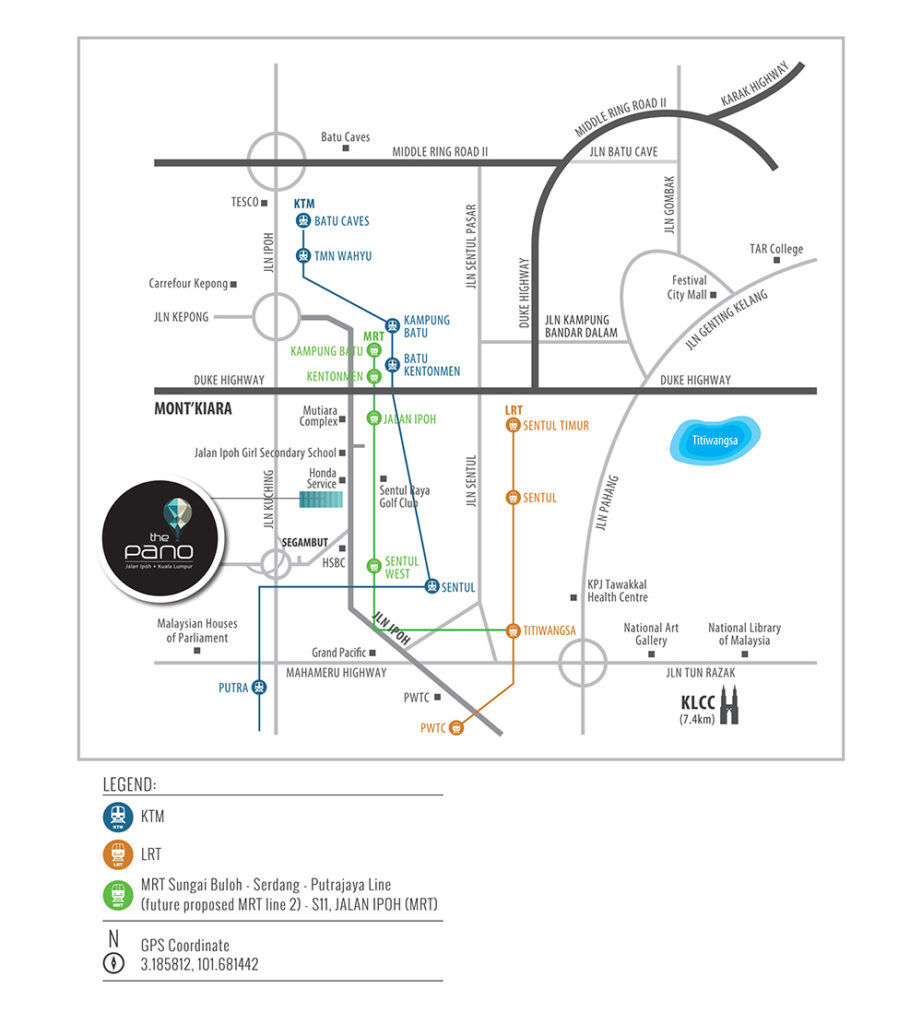 The Pano Floor Plan
Type A with 1 Bedroom (692 sqf)
Type A1 Studio with 0 Bedroom (609 sqf)
Type B with 2 Bedrooms (812 sqf)
Type B1 Dual Keys with 2 Bedroom (826 sqf)
Type C with 2+1 Bedroom (983 sqf)
Type C1 Dual Keys with 3 Bedroom (1003 sqf)
About the Developer – OCR Land Holdings
A developer with more than 20 years' experience in property development, construction and property management. OCR Land was established in year 1989, and of the previous projects are like PJ5 SOHO, Residence 8 Kuala Lumpur, Palm Reserve, Beverly Residence, Casa Utama Townhouse and Westwood Terrace, among others.
For more information on The Pano, fill out the below form.